Rachel Bickler
Job:
Graduate Account Manager
Company:
Auto Trader
I'm currently on rotation learning about all aspects of the business from new clients coming on board with us up until working alongside a business to help them achieve their goals.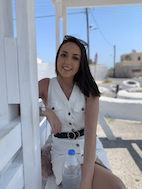 I am...
Outgoing
Caring
Fun
The skills I use most in my job...
Communication/ People Skills
Resilience
Persuasion
Empathy
Commercial skills
The most interesting thing I've worked on in my career so far...
I think the most interesting thing I've worked on so far is the stock offer – working to try and reach a target as part of a massive team was really rewarding for me.
What inspired me into digital and tech...
The 21st century world is all about digital and tech - we've all got to move with the times. I think it's important to be clued up on the digital world to succeed in today's day and age.
My educational background is...
Newcastle University: English Language and Linguistics BA Hons (2:1). Masters in Media and Journalism (High distinction).
What advice I'd give to girls thinking about a career in digital and tech...
It's the future. Don't be put off or think it's a male lead world anymore - it isn't. Many companies are investing in us as females and how powerful we can be. It's the best thing I've ever done coming into a digital career as it's given me so many new skills which are applicable both in work and home life.
Job type tags:
Analysis Business and strategy Data and information Development People / team management Problem-solving and developing solutions Social media and marketing