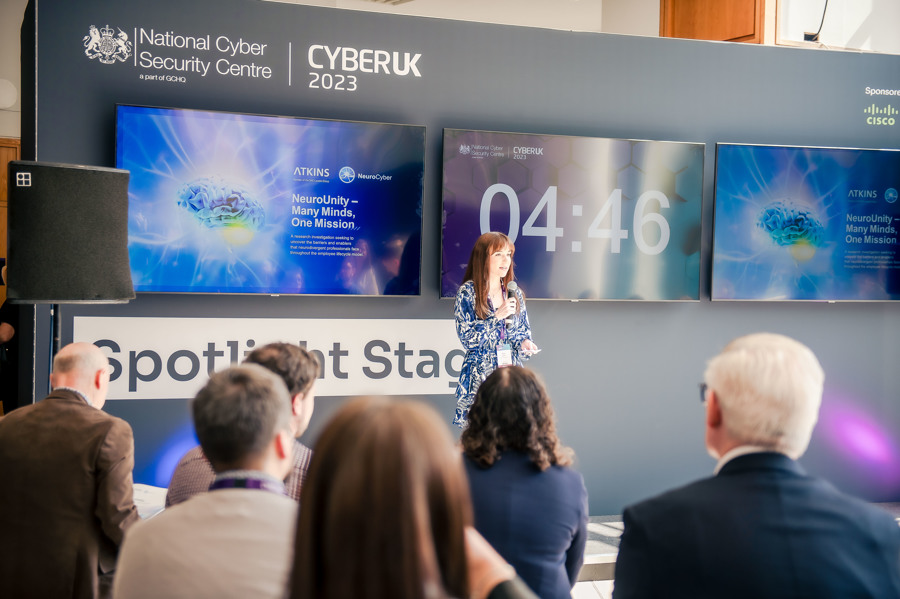 NeuroUnity is a joint research investigation conducted by Atkins, in partnership with NeuroCyber, that centred on uncovering the barriers and enablers that neurodivergent professionals faced throughout the employee lifecycle model.
In April, the summary findings from the research investigation were presented at CyberUK on the spotlight stage – a great platform for a variety of speakers to discuss current ideas and challenges within the cyber sector. But in case you didn't make it to CyberUK, we've summarised the talk below for you to catch up on.
Background to NeuroUnity
The cyber sector is, and has always been, in need of different ways of thinking and diversity of thought. Knowledge and desire to realise the benefits of neurodivergent talent in the sector is increasing, yet persistent barriers have led to continued inequality and stagnation of opportunity that profoundly affects neurodivergent professionals. To understand this further, we asked participants in our survey what barriers and enablers they had faced as a result of organisations either responding to, or not responding to, needs for each stage of the employment lifecycle model.
Summary Results
When looking to the barriers reported by our participants, there were a series of themes that were persistently cited.
One of these is the perceived neurotypical ideal which is embedded within working practices and processes. For example, during the development and progression stage participants reported a lack of progression as a result of embedded misconceptions within the organisation, and a disproportionate over-reliance on self-advocacy in driving progression.
Alongside this, participants reported barriers associated with the demands of workplace socialisation, for example during the onboarding process. Organisations can run the risk of exerting pressure on new employees to assimilate into the organisation's majority status surrounding values, norms, and culture, this can detrimentally impact neurodivergent professionals, and is heightened by the endorsement of social and networking activities.
When looking to enablers, the environment created and enabled by organisations was an important factor to our participants, through the creation of welcoming, supportive and flexible environments. This extended to the important role that colleagues played within their working lives, particularly when ensuring such an environment was non-judgemental, accepting, and welcoming of all individuals.
Recommendations
Strength based competency framework
Neurodivergent professionals in employment can be at a greater risk of experiencing a lack of progression due to rigid competency frameworks. In a move towards redefining what good looks like, we propose that a new strengths-based competency framework should be developed, one which values individual differences, embraces a flexible and adaptive approach, and is committed to understanding and supporting the needs of the individual.
Neurodivergence support advisor
Given that safe channels for disclosure of neurodivergence may not always be accessible or immediately obvious, we recommend that to alleviate the onus away from the employee in choosing whether to disclose through forced self-advocacy, a neurodivergent support and advisory role should be integrated into organisations. This role should be a dedicated function within the organisation, assigned at the employee level and scaled dependent upon need.
Auditable Standard
As it stands, neurodivergent professionals seeking employment or in employment have no common or verified way in which to gain the objective assurance of an organisation's neuro-inclusive credentials, claims, and culture. We recommended that a standard be developed that can be applied by all organisations no matter the size, sector, or location. The standard should centre on the provision of requirements, corresponding guidance, and defined controls associated with the implementation, monitoring, and evaluation of focused neurodivergent ED&I programmes.
The NeuroUnity Summary report represents a step towards achieving equity; however, achieving equity also requires support and backing from academia, government, and industry. Therefore, it is hoped that NeuroUnity's findings and recommendations, based on the lived and current experiences of neurodivergent professionals across numerous sectors, will incite action to create lasting change.  
Atkins are a Sponsor of Digital Her.